American Roaches Clean Out Service
I am 24 hours available to solve your American Roach problems in Las Vegas area.
Get rid of American Roach in Las Vegas
"Each service comes with a full inspection of the property, de webbing, crack crevice treatment, perimeter of property, rock, and tree treatment. All harborage areas included in spray"
Don´t be afraid to call now
What kind of bug is an American Roach?

The American Cockroach or American Roach is also commonly known as the water bug, flying water bug or palmetto bug. These large cockroaches can grow to exceed 50 cm in length.
Where do American Roaches live in Las Vegas?
American cockroaches generally live in moist areas but can survive in dry ones if they have access to water. They prefer high temperatures, around 29 °C (84 °F) because they do not tolerate low temperatures. They are common in basements, crawl spaces, crevices of porches, foundations and walkways near buildings.
If you see any of them in your home, give me a call 702-425-2742
How do I get rid of them?
Treatment consists of residual flush and dust. We at josh the bug guy will always do inspection first, then treat the problem.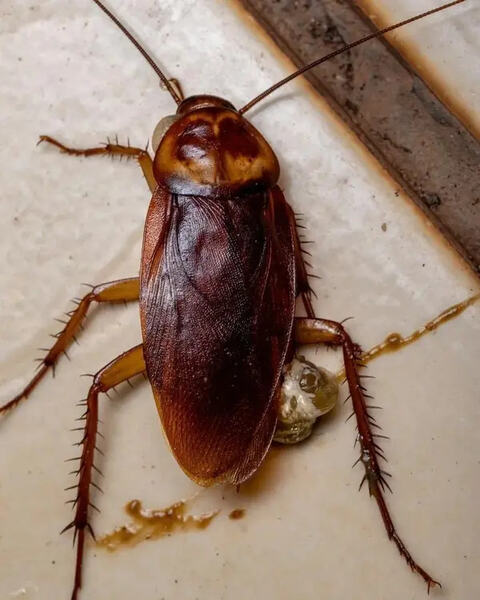 I called him in a panic and not only was he able to calm me down, he took care of my issue immediately . After only one spray, I haven't seen a roach in or outside my condo. His prices are very fair and he's also super entertaining.

Josh is very good at what he does and he's quick. He came out to our property in North Las Vegas because we had a bunch of cockroaches that just wouldn't go away. He sprayed and a couple weeks later, we don't see any bugs inside any more. Top Line is good and affordable. I'd go with them again, for sure.
Happy to serve my community
I have been in the industry for over 17 years, always providing a pleasant and professional experience for your pest needs.
24 hours Available
No Contract Required
Emergency Service
Same Day Service
5 Stars Service